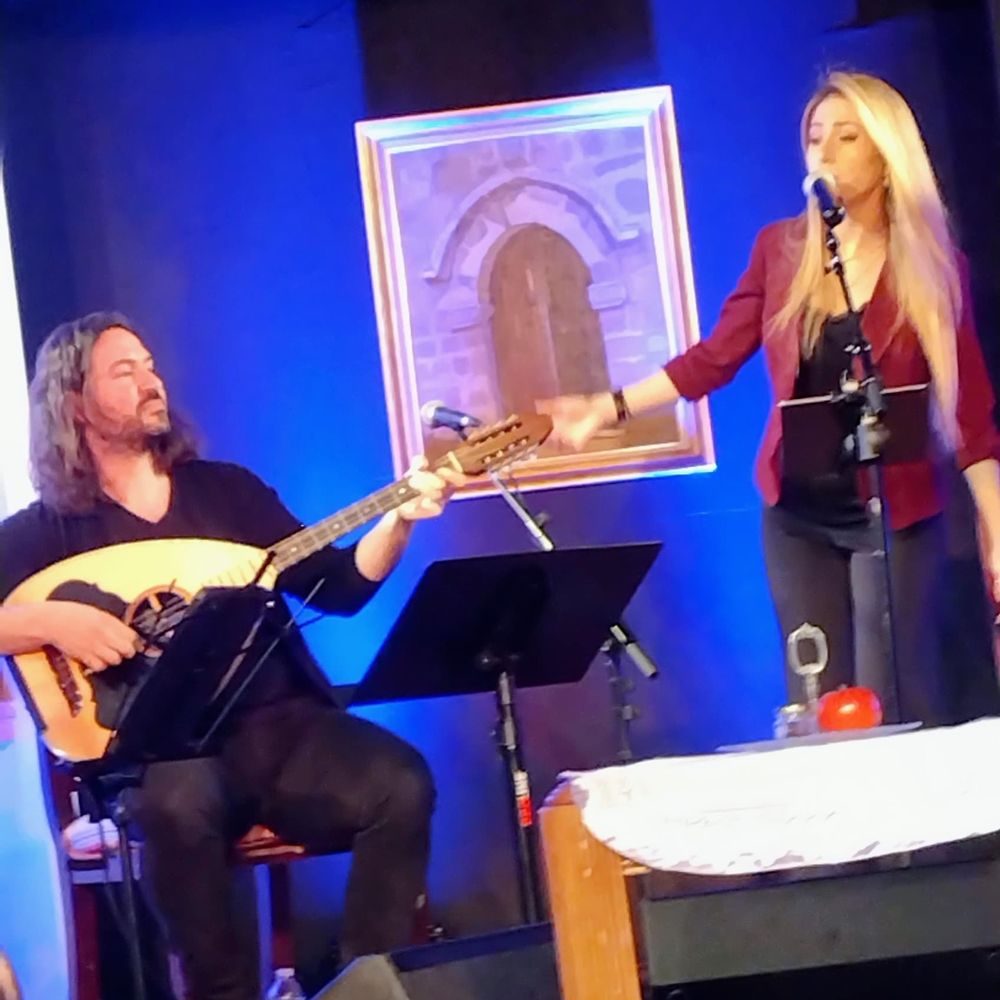 Sounds of Cyprus is a Cypriot orchestra co-founded by Peter Douskalis and Elena Chris in New York City. The group performs the traditional music of Cyprus in varying orchestrations and styles that both consciously honor the time period of composition and period instruments as well as perform with a modern approach. Elena Chris, vocalist and Artistic/Creative Director of the group, sings the traditional songs in the Cypriot dialect of Greek, as well as in Turkish for songs that contain lyrics in both languages. Peter Douskalis, Project & Music Director, plays the laouto, oud, mandolin, and guitar in the group, switching between the proper instrument as needed for the authentic and modern orchestration of the pieces. Other instruments of the group are violin/viola (Alex Tasopoulos), contrabass (Erikos Vlesmas), pithkiavli and ney (Stavros Papadopoulos), and percussion (Mark Katsaounis).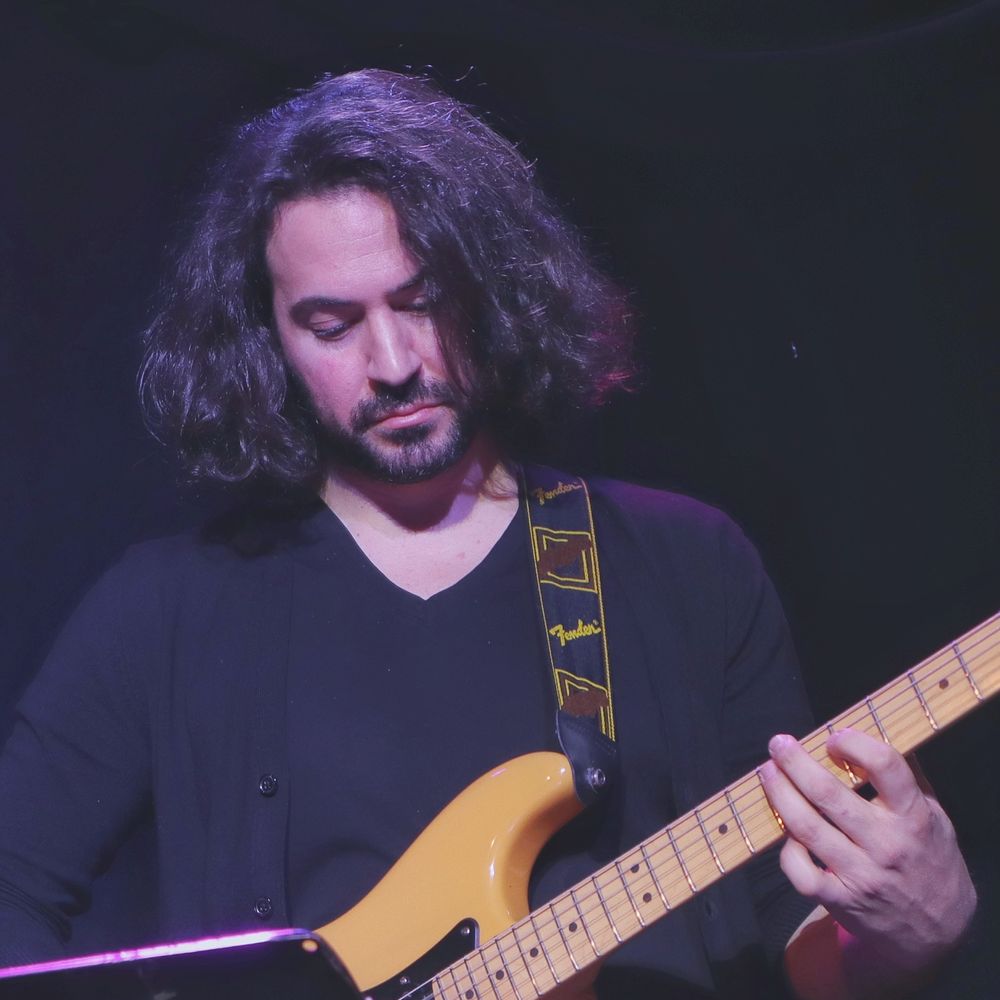 Peter Douskalis
co-founder, project & music director, laouto/oud/mandolin/guitar
Peter Douskalis is a musician, orchestrator, and educator. He is a substitute guitarist on various Broadway and off-Broadway shows. His music arrangements and sheet music have been published by Hal Leonard Corporation. He has published academic articles and given TEDx Talks on intercultural music education. The latest recording release he can be heard on is the New Broadway Cast Recording of the show "Caroline, or Change", on Broadway Records (2022).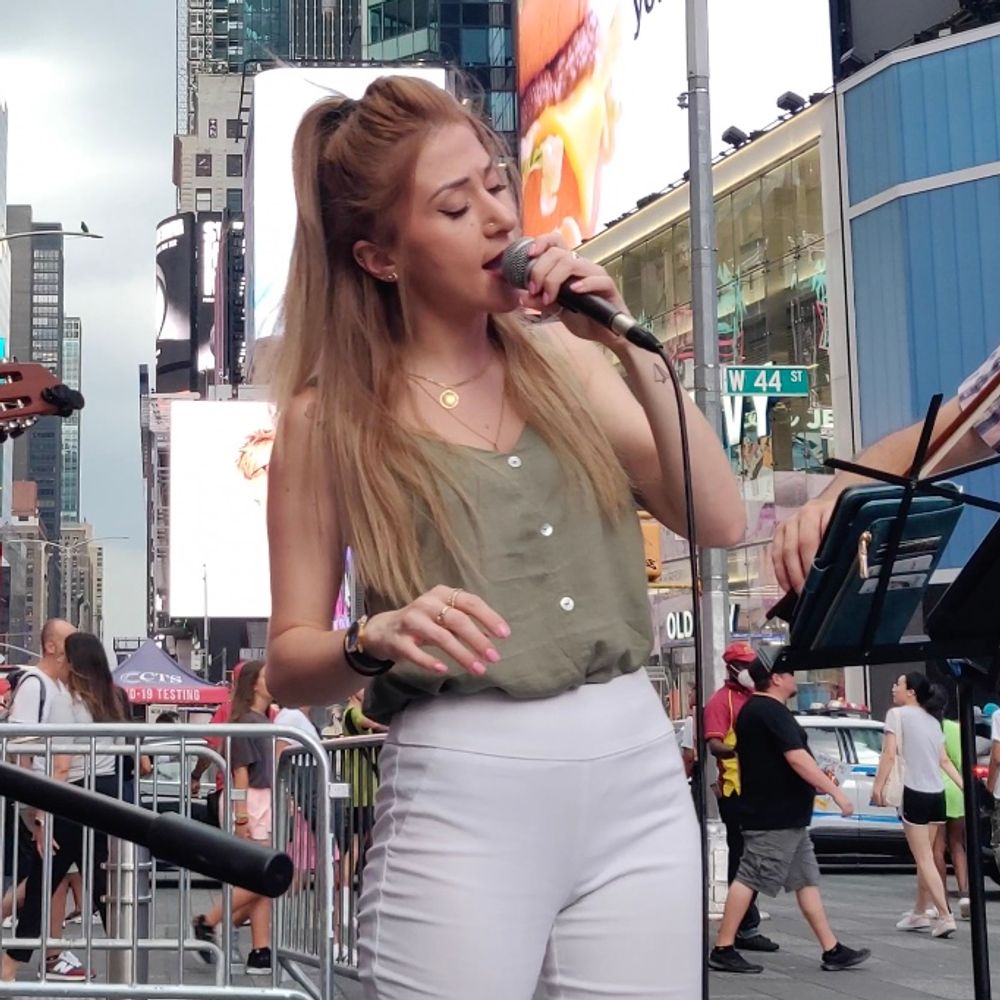 Elena Chris
Co-founder, Artistic & Creative Director, vocals
Elena Christou was born and raised in Cyprus! From an early age she showed her love for music by starting piano and vocal lessons. She has appeared on Cypriot Television shows such as the Traditional Night on RIK and has collaborated with several renowned artists in the field of music!
Alex Tasopoulos
concert master, string orchestrations, violin/viola
Alex Tasopoulos began playing violin at a young age, and with the support of his family, he has had the honor of studying violin and viola with distinguished professors of The Juilliard School, McGill University, Brooklyn College, and the Mannes School of Music. He is the Orchestra Director at Brooklyn Technical High School and Adjunct Professor of string instrument pedagogy at Queens College. He enjoys bringing new life to historic melodies, and sharing the beautiful and unique music of Cyprus with enthusiastic audiences.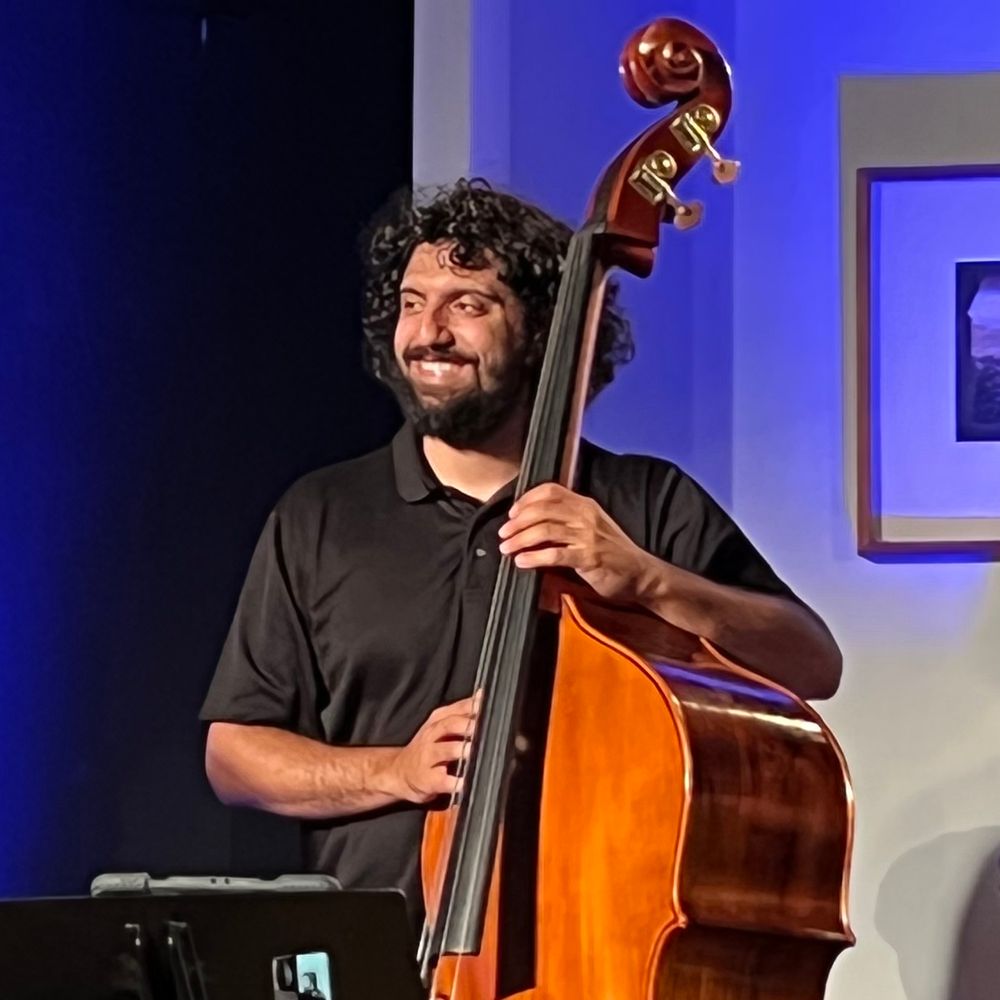 Erikos Vlesmas
contrabass
Erikos Vlesmas is an electric/upright bassist in Brooklyn, NY. He has his BA in Bass Performance from SUNY University at Buffalo, and has a Master's degree in Music Education from Hunter College. He specializes in Jazz, RnB, Pop, Rock. He has performed with Grammy Nominated artist Fyütch, Alpha Orchestra, Marucs Lolo, and has performed and recorded bass with artists such as Jonathan Freeland, and The Dreamland Fire.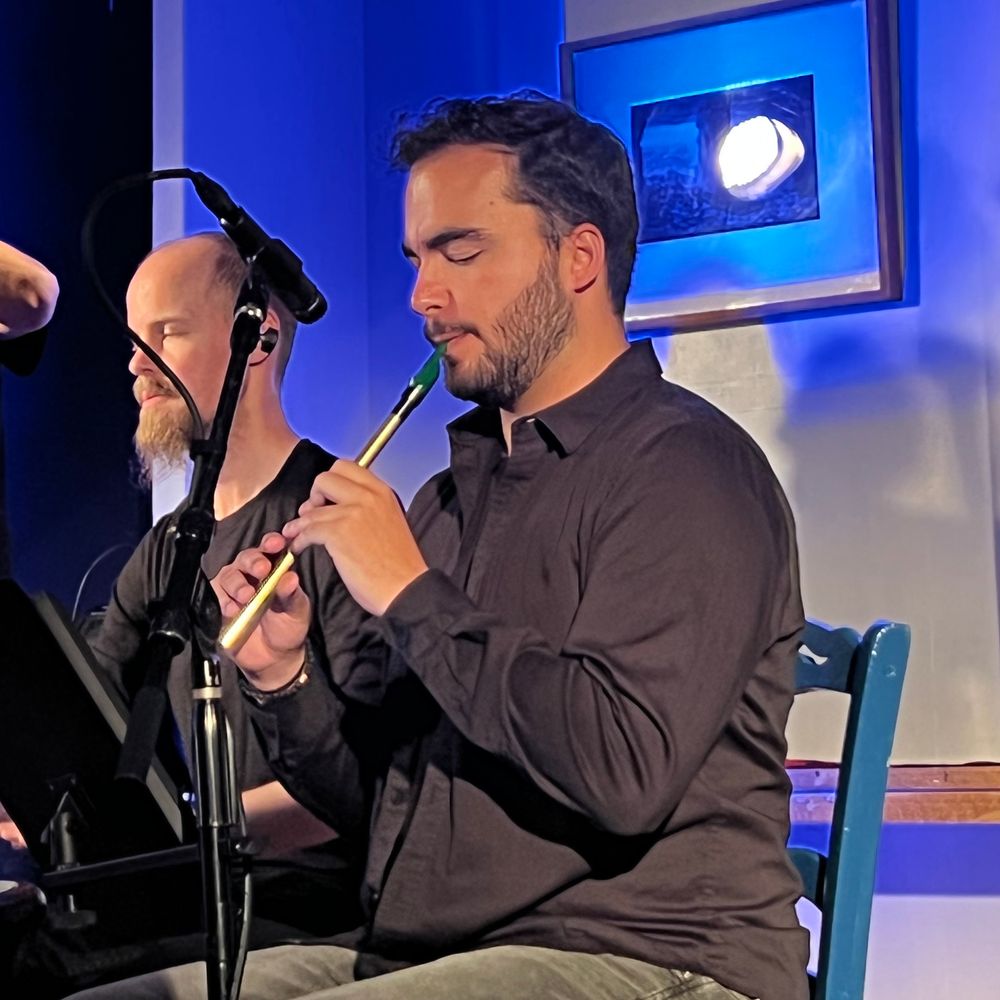 Stavros Papadopoulos
pithkiavli and ney
Stavros Papadopoulos is a New York City based attorney and woodwind player hailing from Thessaloniki, Greece. With musical roots as a saxophonist, he has performed jazz and symphonic works with the Youth Symphony Orchestra of Greece (ΣΟΝΕ),the American University Jazz Orchestra and Wind Ensemble, and has appeared at events including the Mid-Atlantic Jazz Festival and the Maliotis Center Greek Music Festival. He plays the pithkiavli and ney and regularly performs across various genres in the Boston and New York City areas, and is a member of the ensemble, Anatolí.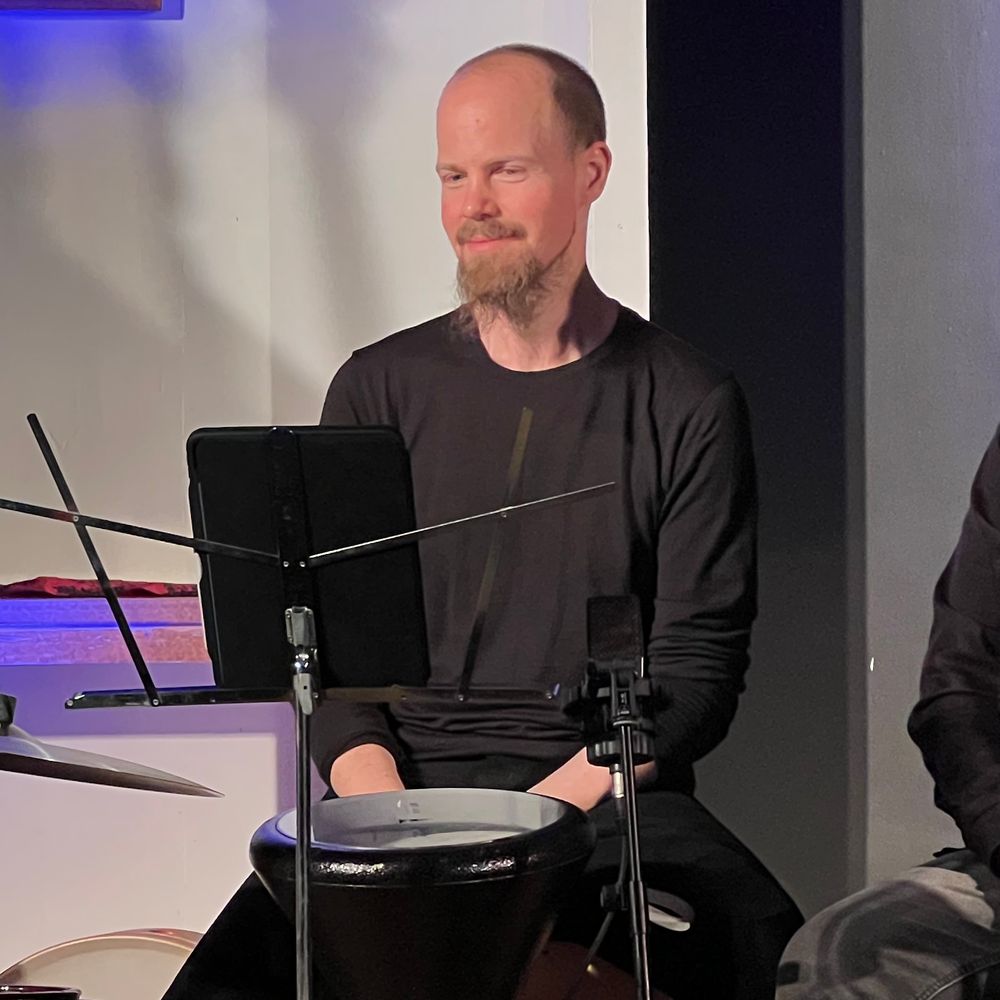 Mark Katsaounis
percussions
Percussionist/Composer Mark Katsaounis fuses his background in Classical, Chamber, World, and Electro-Acoustic music to move effortlessly within New York City's unique musical landscape. His credits include Percussion Group/Cincinnati, Ethos Percussion Group, The Glen Velez Ensemble, and many more. As a theater musician Mark has performed with the Broadway productionsTuck Everlasting and Mean Girls. Off Broadway/Regional production credits include Antony and Cleopatra and Sisters' Follies.  In 2020 he released his debut EP, Ichos, which combines traditional hand percussion, rattles, shakers, and other sounds with ambient influences. Mark is on the faculty at Hofstra University and Marymount Manhattan College.